id Software
App Store: Rage $0.99 | $1.99 HD (Universal App)
The guys at id Software have now raised the bar on what users can expect out of 3D models and animation with their new game Rage for the iOS. The iOS game is a preview of what we will see in the full PC/console version of Rage that will be released in 2011. In the iOS version you are a contestant on a game show where you are fighting mutants with the goal of getting to the end of the level without dying and collecting as much money as possible along the way.
The game comes in two versions: standard and HD. They are basically the same, while the HD version includes hi-res textures. If you own an iPhone 4, iPod touch 4th gen, or an iPad then you should spring for the HD version. Either way they are both universal applications so you will be able to enjoy the experience on any of your iOS devices.
The game consists of 3 "episodes" where you battle mutants, collect cash, and try to survive. This is a rail shooter so your field of movement is limited, but this game is still a lot of fun. There are two different control schemes: tilt and touch. The iPhone version defaults to to the tilt configuration and the iPad version defaults to the touch configuration. I played through the game on both the iPhone and iPad and found that the default control configurations work best for each of those devices, since the iPhone is really two small to use their touch interface and you will find yourself constantly accidentally hitting the pause button.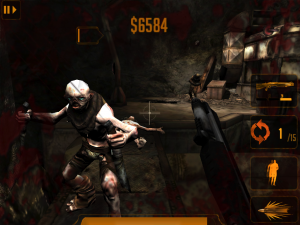 The game is a shooting gallery type game where you are moved to a station where mutants spawn and you have to kill all of the mutants on the screen before you can progress to the next station. While moving between stations or at a station you will have the opportunity to shoot bullseye targets and collect health, ammunition, and cash power-ups along the way.
The game itself is fairly fun, but where it shines is during the in-game scenes where the host is talking before you begin an episode. That 3D model and his animation are absolutely fantastic! Those are the best graphics and animation that I have seen in any iOS game so far. You can beat the game in 15-20 minutes, so hopefully an update will be released soon with additional episodes to keep things interesting. If you are a fan of other id Software titles, then you should go give Rage a try and get a sneak preview into the world of Rage.