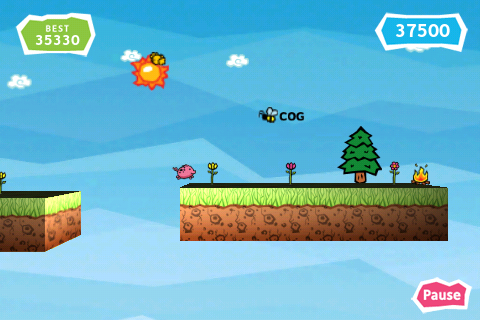 ReignDesign
App Store: Pig Rush $0.99
Pig Rush is a fun twist on the distance running game that is family friendly and fun to play! The game is Charlotte's Web meets Canabalt with a little volunteer firefighting action.
The graphics bright and fun. All of the platforms are 3D, while the other objects are 2D billboards that actually look really good mixed together. You tap the screen towards the bottom for a small jump or towards the top for a large jump. The pig can double jump one time before touching the ground again, which comes in very handy. There are little bees that mark other players scores, but you can eat these bees for extra points. Watch out for the camp fires and if you can get a fire hat it will make you fireproof for one fire collision. There is also a giant pig power up that makes you, well, a giant pig! As you go further into the world the platforms will actually move up/down to really make things challenging for our little pig friend.
[youtube b1W3oeQB3Nk]
This is a fun pickup and play game that really is clean and fun to play. These self challenging games are very popular in the App Store and Pig Rush is a nice addition.