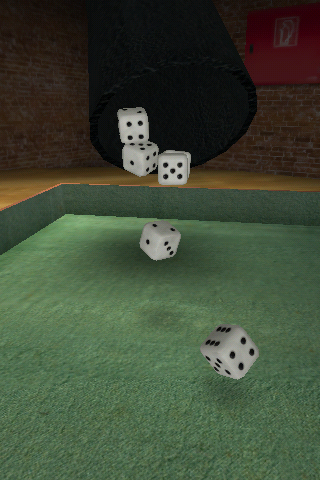 Mark Hessburg
App Store: Newton's Dice 3D $0.99
Newton's Dice 3D by Mark Hessburg is a dice app that also offers two different dice games. The graphics are beautiful with a 3D environment that fits very well with this type of game. You can either choose to use this app in place of physical dice or play one of the two games that it offers: Dice 10000 and Shut the Box. You role the dice by shaking the iDevice and then they will be thrown out of a cup onto the table.
I am a little old school, so I am not sure that I would ever use an app to replace physical dice, but the two included dice games were a lot of fun. I really enjoyed the 10,000 game mode and thought the scoring and AI were well done. There is also a mode that will allow you to play with up to 4 other players locally (i.e. pass-n-play). This game might benefit from adding a wager aspect to keep things interesting, or an online mode that would let you play against your friends in a Words With Friends manner. Very nice dice game worth checking out and it is currently 80% off.