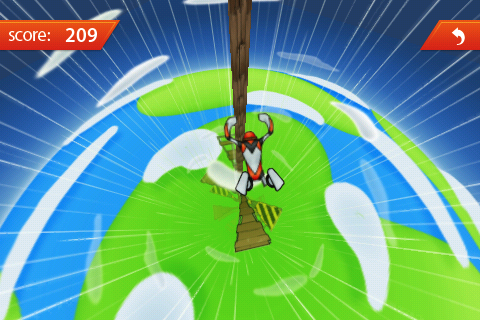 Paladin Studios
App Store: Jimmy Pataya $0.99
Jimmy Pataya is an adrineline junkie that decided he couldn't wait to strap on a parachute and would worry about that later, it was time to jump out of an airplane! You control Jimmy as he is free falling to Earth and you tilt your device left or right to rotate Jimmy around a pole that goes down to the ground. There are various platforms attached to the pole that you have to avoid as you fall and see how far you can make it!
The graphics are awesome and there is an effect that really makes it feel like you are rushing towards the ground. The game also has great sound effects and music.The controls really work well for this game and are easy to pickup. There are high scores and you can Tweet your score. Paladin Studios created Jimmy Pataya in just two weeks, so there are no achievements or other challenges other than trying to see how far you can make it before hitting one of the platforms. This is a fun game for $0.99 and hopefully the developer will release an update that adds more challenges or something along those lines.
[youtube Wf642aaxARM]