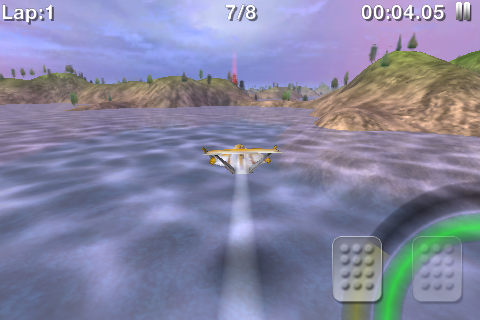 Glenn Corpes
App Store: Ground Effect $2.99
Ground Effect is really fun racing game that is similar to whip'Eout", but more realistic! This game is simply awesome with incredible 3D graphics, challenging tracks, and is very smooth. If you are not familiar with the concept of ground effect vehicles then you should read up about them on Wikipedia here. This is not sci-fi and this game does a great job of bringing this really cool vehicle to the iPhone.
You have the option of selecting from many really well designed 3D crafts with various paint jobs. There are 14 levels and they get challenging really quickly and offer a lot of replay as you try to get the best time possible. You must place in one of the top three finishing spots to unlock the next level. You use the accelerometer to turn left and right, while using two peddle buttons as boost and brakes. The sensitivity of the controls takes a little getting use to, but the controls work great once you get use to them. You gain more boost over time or by passing through gates (between two flags). If you miss a gate then boost is taken from your meter, so be careful!
The tracks are really well done and offer awesome terrain. The jumps are amazing and really add a lot to the gameplay. There are three modes of gameplay: Race, Ghost Race, and Just Cruise. Ground Effect uses OpenFeint achievements and leaderboards. The music and sound effects are great. There is also the option to play your own music, which is always nice.
This is one of the best racing games that I have played on the iPhone and I would highly recommend giving this one a try. There is a lot of gameplay here and as Glenn mentioned, in our interview with him, more levels are on their way!
[youtube 30UBj6vfshU]