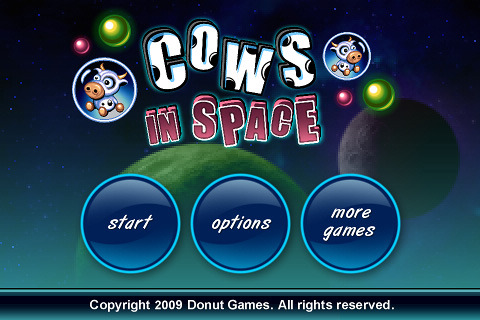 Donut Games
App Store: Cows In Space $0.99
A very simple game that can get tricky really quick. Cows space is an interesting game where cows in bubbles float in space. You are a spaceship and your job is to get the cows to make contact with the floating stars in space. Sounds easy enough, but you only get three shots. Make them count! You will score higher if you can save the cows in the fastest amount of time without using too many shots. The level ends once everything becomes still. Throughout the levels you will encounter objects that will hinder your progress. Calculate your shots; there are gravity zones that will suck or repel your shots. Make sure to avoid the floating skulls. Nothing good comes of them. There are plenty of levels to keep you entertained.
I really enjoyed the user interface. The game is well polished, and I like how they keep the same menus for other games. A tid bit that I found out by accident is the ability to keep the level going by using your ship to interact with cows, stars or even bullets. I had gotten a little frustraded with a certain level. I then began to swipe the ship back and forth accidentally banging into a few objects causing them to ricochet wildly. I was able to beat the level, and end my frustration. A fun game that kept me entertained to beat all the levels in one sitting.