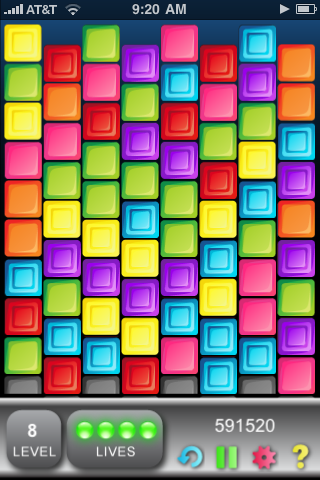 Mophy Software
App Store: Block Fall Tilt $0.99
Block Fall Tilt is a block matching game that is simply amazing! This is the most fun block matching game that I have played since Bejeweled. The gameplay is simple, but very addictive. You tap on a block to destroy it and any other adjacent blocks that are of the same color. If you only destroy 2 or less of a single color with a tap then you loose a life. Once you loose all of your lives, a new row of tiles will be dropped down onto your existing pile. Once an entire color of blocks is removed from the screen, they will never return if new blocks are dropped into the pile. You loose if a new row of blocks is dropped, but there isn't room vertically to accommodate the new blocks.
Where things start to get interesting is the "Tilt" part of the game's name. You can tilt the device to the left or right and all of the blocks that can slide will slide to the far left or right. This helps you continue to match 3 or more blocks at a time. There are also some zig zag levels that also keep things interesting (see screenshot).
I just can't say enough good things about this game. The graphics are awesome, the controls are well done, and everything is very well polished. My only complaint is that there are not more or unlimited levels! If you don't already own Block Fall Tilt then I highly recommend that you get it immediately!