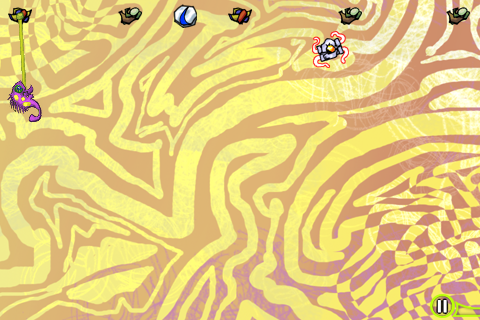 Mr Jack Games
App Store: Alien Swing $1.99
Alien Swing is a swinging game where you play a purple space alien chameleon. You use your tong to grab onto various objects by simply tapping on the object. To help the alien swing you tilt the device left/right and allow physics to do the rest. The primary objective is to swing the alien past the right side of the screen, but there are various items that you can also collect as you move from level to level.
The art style is really funky and ties in well with the alien theme. The controls work pretty well and there isn't much you have to learn after passing the first level. There is a distance game mode that allows you to see how far you can swing without hitting the ground. Alient Swing also uses OpenFeint for leaderboards and achievements.
I think that this game is more interesting than most of the basic swinging type games and I am sure the art style will really appeal to some. You should give Alien Swing a try if you are into swinging games or if you really like the art style.
[youtube mI0s2MTeqCE]