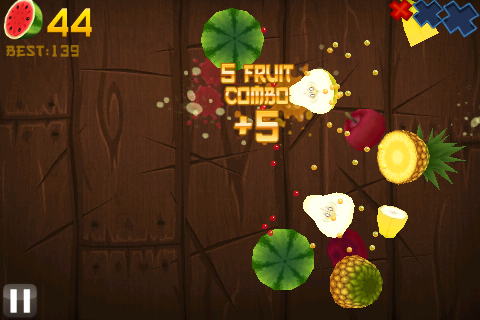 Halfbrick Studios
App Store: Fruit Ninja $0.99
Fruit Ninja is one of those must have games that is entirely too addictive for your own good! The goal of the game is to slash as many fruits in half as possible and to beat your best high score. This is simply one of the best casual games out for the iPhone!
There are two game modes currently: classic and zen mode. The goal in classic mode is to slash as many fruits as possible without slashing any bombs or allowing 3 fruits to drop off of the screen untouched. Zen mode is a more relaxing mode that does not have any bombs, untouched fruits that drop off of the screen do nothing, and you have two minutes to slash as much fruit as possible. You can gain extra points by slashing 3+ fruits to ear special bonus points and then there is a random critical strike that gives you an extra 10 points!
There are OpenFeint achievements and leaderboards to keep you challenged. The in-game achievement notifications are by far the best looking customized notifications that I have seen in any OpenFeint game. The developers are Halfbrick Studios really made sure that everything about this game was perfect.
[youtube Y6hUTC1Edyo]
This is a very polished game that is really a blast to play. When I first saw this game released I thought to myself that this would be a flop, but playing it completely changed my mind and it is well worth giving a try!