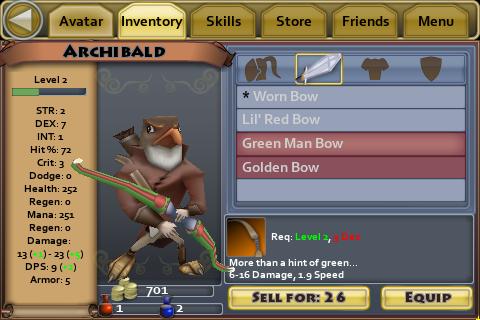 Space Time Studios
App Store: Pocket Legends FREE
Finally an MMO that has me excited. This review is for the iPhone version. The differences between the iPad and iPhone are minimal. You choose from three different classes to play the game. The game is in 3D and offers some good camera control with zooming and rotating. The three classes are an archer eagle, bear warrior and an elven mage. It is not an open world type MMO, my first disappointment, and you are forever stuck to play instance after instance. There isn't much of a story line, but what is there ties itself to the action. With it not being an open world I found it to be a fun and addicting MMO. There are plenty of players as I have yet to play an instance alone which is nice. Having other group members to help makes it fun.
The game is free to download, but after level 13 it will require you to purchase packs to advance in level. The price for the packs are reasonable ranging from .99 to 1.99. You can still play without purchasing the packs you will just not be able to level and acquire weapons.