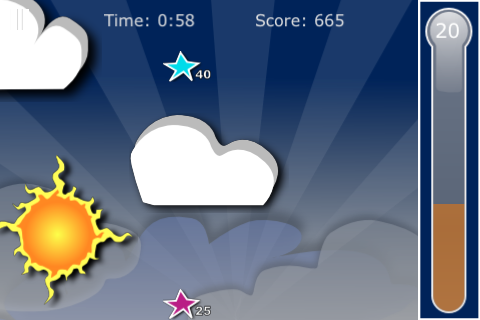 Christopher Waite
App Store: Star Fusion $0.99
Star Fusion is an arcade style game where you control the Sun and try to intercept stars as they fly across the screen. This sounds easy, but it can be pretty tough the longer you play! The controls for this game require both left and right thumbs to be really affective. You control the vertical position of the Sun by sliding it up and down on the screen. The sun needs to be aligned with the stars that move from the right to the left side of the screen. Now, in order for the sun to capture a star you must use the thermometer control on the right side of the screen and if a star has a value of 25, then you need to set the thermometer control to 25.
The graphics are very well done and the clouds that move across the screen on their own are a very nice touch. The clouds can actually obscure your view of stars, but you can always grab a cloud and drag it to a more desirable location as it moves across the screen. There are various power-ups that either give you additional time or increase the score of captured stars. The game has fitting background music and sound effects when stars are captured. The help system is nice and makes it easy to pickup the game and understand what you should be doing. It might be interesting to have a level/wave type setup where you need to collect a certain number of stars to progress to the next wave and then when you stop/restart the game you could continue where you left off on say "Wave 12".
[youtube J1N5ZsqGlDE]