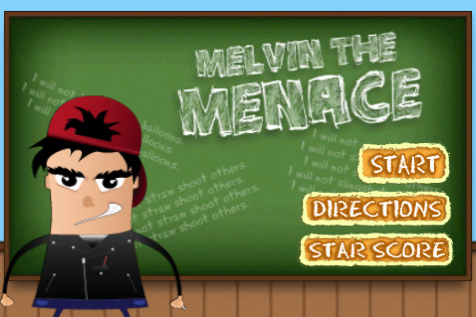 Adam Kehoe
App Store: Melvin The Menace $1.99
The school bully, you gotta love 'em. The game is a shooting gallery style. The goal is to cause as much problems without getting caught by shooting, throwing and spitting at all the kids. You must choose from three different tools slingshot, projectiles and a straw. In order to use your preferred weapon you must hold and keep the 'D' button down while selecting your targets. When the authority makes a noise it means it is time to hide your weapon before he/she turns around and catches you. The game offers different locations and bonuses through out the levels during the week.
I did notice a bit of a lag time between targets and shots. The awkwardness of the controls were a drawback. I was hoping for some sort of endless level mode. This is my first shooting gallery game on the iPhone, and I did have some fun with it.